In Memory of Joseph E. Sindoni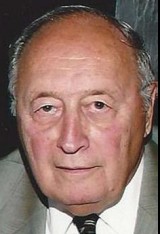 Founder
Joseph Sindoni, a native of South Philadelphia, Graduate of South Philadelphia High School, a Communication Officer In the US Navy during WWII, a graduate of Temple University, established his real estate and insurance agency at the corner of 19th and Porter. In 1962 Joseph Sindoni together with Vincent Bonaventura, opened and incorporated their business, Bon-Sin Realty Company, 2010 W Oregon Avenue, Philadelphia PA which has been the agency's home for over the last 55 years.
Joseph Sindoni was well known in the real estate arena. Locally, state-wide and nationally, he served in many leadership capacities including National Director and Pennsylvania State President.
Joe, as he was known, was seen in his office daily until his passing in January 2015. A 65-year Career dedicated to both Real Estate and Insurance and the founder of this company.